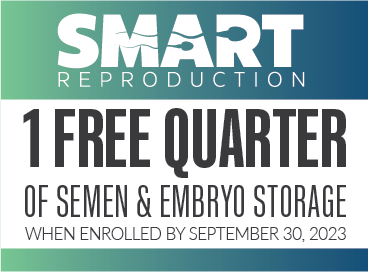 SMART Reproduction is excited to offer short and long-term domestic and international semen and embryo storage for the following species: cattle, sheep, goat, deer, horse, dog, and cat.
Know your investment is safe in our secure facility with scheduled tank inspections by our trained staff. With a custom created online inventory program, clients can view their inventory in real time, as well as schedule transfers and arrange shipping of their stored products. As with all our client interactions, your information will remain confidential. We understand the time, effort, and expenditure that goes into producing high quality germplasm.
As our center holds the unique position as a USDA certified export facility, we are able act as an aggregation and shipping point for export qualified cattle, sheep and goat semen and embryos. Additionally, we offer long term and short-term storage for our clients that are importing sheep, goat, cattle, and other novel genetics into the United States. SMART Reproduction has the knowledge and experience to coordinate sourcing, procuring, and importing a wide variety of species semen and embryos. Our goal is to provide a fully supported import process that is as stress free as possible for our clients.
Domestic storage clients can expect the same level of service when it comes to coordinating shipping of their stored products to their facility or their customers. Our staff has a detailed protocol for receiving shipping requests, semen intake, tank maintenance, sanitation, and inventory. This allows our domestic producer clients to focus on the animals themselves.
Domestic clients are billed quarterly with the following rates:
Semen products
1-199 units $45.00/quarter
200 or more units $0.20/per unit per quarter
Embryo products
Each mating lot $5.00/per mating per month
All semen and embryo clients will be billed a minimum of 45.00 per quarter.